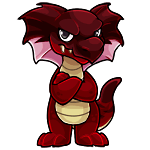 On Vacation
Hi I'm Gorgun.

I am the first pet Nitewalker ever created on Mara.
I am her main battle pet and collection pet and as such, I will never be for sale or trade.

Besides reaching level 10 on every instrument on Mara, as of November 5, 2018 - I have also completed all learnables! At least until Ian releases more. That means all Books, CD's, DVD's and Spells

Being the main battle pet, I work up a huge appetite, thus the Gourmet Foods I've been devouring.
In my down time I like to play

Also, I'm proud to say that I've earned lots of awards too. Check out my award page.

Have a great day!