In case of bad feelings emergency (Freckles)
2 years & 9 months ago

10th Nov 2017 16:47


After stalking this name since even before the the ordeal with staff requested pet names, I was fortunate enough to snag the name Freckles from the purge. Today, I gained enough Olympic Points to purchase a Figaro maker and a Calico costume to make Freckles a representation of my beloved first pet, a calico manx.

Freckles has changed into Green Figaro
Freckles is now wearing Calico Costume

Though the Figaro is not a Manx, I feel like it fits perfectly.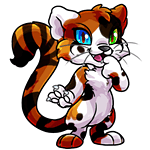 The real Freckles had a "pet" blue bunny named Pooky that she carried with her everywhere, so it was only fitting that Freckles the Figaro have one of her own.

Freckles now has a new pet Quiln
Quiln has been wrapped with a Ball of Blue Yarn and is now Blue Quiln




She passed away in 2009, but my Figaro will always be here to remind me of her.