Hey I'm Bean! I'm an adult player from the UK, and a freelance artist! They/Them please!
Hoping to make PatchworkInsomia into a Sleepy or Plushie Quell
DkLNiteSlash, Labbly and Rattagus are my labrats
Pets are NOT for trade, but I'd be happy to let you borrow them for goals etc
Also willing to trade plates/photos etc for ones of similar value!
Chirashi the Prison Quell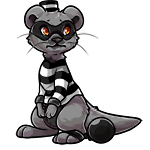 Happy

2 Years 6 Months Old

Level 32
Died 0
Imprisoned 1
Weight 90KG
Height 9 Metres



Orange Jacko


2 Years 3 Months Old


Dumdo


2 Years 3 Months Old


Toy Jokemo


2 Years 3 Months Old


Rokma


2 Years 3 Months Old


Pucci


2 Years 3 Months Old


Yellow Limited


2 Years 1 Month Old


Spootli


2 Years Old


Radioactive Gremble


1 Year 10 Months Old


Gromps


1 Year 11 Months Old


Viper


1 Year 6 Months Old