My Pets and Gallery items are not for sale or trade. For those wanting to borrow pets for goals, all my pets are very expensive.



Recreant the Mummy Lati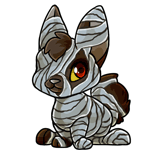 On Vacation

11 Years 5 Months Old

Level 207
Died 0
Imprisoned 0
Weight 1KG
Height 1 Metres



Purple Middy


5 Years 2 Months Old


Purple Iggy


4 Years 11 Months Old


White Iggy


5 Years Old


Meepo


4 Years 11 Months Old


Zarplet


4 Years 7 Months Old


Schnoodle


12 Months 0 Days Old


Belle


15 Years 7 Months Old


Leafy


6 Months 5 Days Old
For most items in my trades/shop, I'm willing to accept items I need (see blogs). I may also accept Computer Science and Environmental Studies scholarships. Please be fair when trading. Have a great day!