This is the
temporary
layout for tablets.
Rotate your device
on it's side for full screen

yob
the Scout Fasoro
1 year & 2 months Old
Born
12th Oct 2018 22:34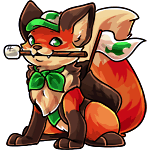 On Vacation
Hi! I'm Akrylic. I'm 29 and from the UK.
I am pretty new to Marapets although the age of my account is older. I must have created it but never played. Not too long ago I decided to come and give it a try.

So far I love the place. I am currently working on training up my pets for jobs. I plan to make Jolz a battle pet. I also want to start working on goals and collections.