First stage:
1. why did you enter the talent show?
A: i want it so badly because i'm soooo beautiful - see my hat and so i asked my owner and she says Yes, hurray
2. how would you encourage people to join mara?
A: come and try it, it cost nothing and you will have fun, meet a lot nice people and find new friends, you can relaxing, chatting, playing games - it's the best game of the world and you will meet me....giggles
3. If you could change 3 things on mara what would they be?
A: First: using accessoires for my owner's doll like bags, hats....,
A: Second: more pets - so i have more brothers and sisters - love a big family,
A: Third: New world with new goals and missions
4. If Ian visited you, what three questions would you ask him?
A: First: why do you change the outfit from some pets so ugly?
A: Second: do you have a plan for a shop to buy fertilisers like seeds?
A: Third: do you want a coffee or a cup of tea?
5. what is the best quality of your owner? what is the worst quality?
A: she is a friendly helpful person and the best mom of the world but she has not many patient - giggle
6. if your owner wins the lottery what would you like to recieve?
A: i'm wishless happy
7. what are your inspirations on mara?
A: to have fun with my family
8. you had mentions to some contestants that you were in love with one of iamsusi's pet
what pet would that be? and what attracted you to her/him?
A: Oooooops and i thought nobody would observe it: - she is so beautiful - i'm totaly fallen in love for her striped stockings - whispers her name: Sister2of3 (get a red head)
9. if you could give a gift to your owner what would it be?
A: my love and my wish to be a strong loyal beautiful pet
10. what are your thoughts concerning pets that are abandoned?
A: that is bad bad bad bad bad..... i don't want to think about... (tears in eyes)
11. what famous animal can we compare you to and why?
A: Despereaux - the bravest mouse from the world
12. three wishes
A: First: don't want to be redrawn and my sisters and brothers too
A: Second: don't want to see all the other pets are redrawn
A: Third: forever to be a part of my family
13. what is the one thing you wish you were able to do daily?
A: to catch the smuggler -- hahahahaha
14. if you are selected the winner for this pet show how will you use your title to make life better for all mara pets?
A: to help all the poor pets who are pounded to find a wonderful home like mine
15. what does love mean to you?
A: my family and ....... (whispers) the striped stockings from Sister2of3 (get a red head again)
16. what is your worst habit?
A: my what???? i don't have something like that.......
17. how do you feel about the new pets being drawn or the redrawn ones?
A: how i feel? BAD - they are soooo ugly - the poor pets... i must cry about them - tears in my eyes (get shaky knees)
18. have you won any awards, crowns? if so for what and how did it make you feel to have won?
A: yes - i won the some olympic awards - not many - i'm more the beauty.....
19. what does the world selfish mean to you?
A: taking all from others and giving nothing back....thinking only on themselves....
20. in 5 words describe you owner
A: helpful, kind, happy, unpatient and family - go away - she is MY owner ...and my sisters and brothers owner - she is our MOM
second stage:
Oh I am glad to be no longer in Sewerland, where everything was so dirty and full of waste. But myth has brought me out of there. All Basils are born there. I'm not long with myth but it's very beautiful here, I have 17 brothers and sisters and they play every day with me and my little friends, my minipets. I'm still small, I think I'm only 150 days old - I can not even count correctly. But myth has said I'm going to school in Marada very soon. I have visited the kindergarten of the University of Simeria and I had a lot of fun. My siblings have all given me many great books. I can do a little reading and I look at the pictures. I like to dress up, I wish I could wear every day a new costume. The other day I was a mobster, perhaps you've already seen me, that's a fancy suit with a great hat. But my sisters have told me that the costumes are very expensive. When I grow up I want to be a spy, a spy have wear lot of costumes and can travel around the world. And I am definitely a very famous spy because I've saved the world as James Bond, you know him? I started to visit the Olympics and I have already won a few times. I'm also start visiting the gym in minipet island, where I learn everything I need to fight, that's I have to know as a spy .... no i have to run, myth is calling me....bye
Third stage: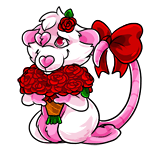 Hero of love
i felt in love for a girl ???
and want to be her Hero
what can i do?
i want to bring her a diamond
where i can find one around
Hear from Knutt Knight
so i go to him to fight
she say's
NO
i want to bring her a star ???
so i'm going to enpiah it is so far
climb up the big chain
found a star apus is his name
she say's
NO
i want to give her a shiny pearl
dive deep in the pool called whirl
found one shining pink
i was lucky so i think
she say's
NO
worked hard to become a millionaire
to buy all things from the world for her
bring her tiara,bracelet and crown
from simeria , goes on my knees down
she say's
NO
my fur is wet from all my tears
i hear an angel whispering in my ears:
wake up it's only a bad dream
it is time to go to her and you will seen
so i go to her...
and she smiles
as i gives her my heart and my life
promise to love her all the time
if she want to be mine
and she says :
Yes
i will be your wife
forever ???
you are my hero
Fourth stage: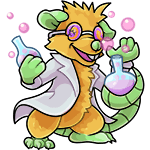 Halli Hallo hehehehe,
that's me,
Basilinchen
(dancing around) and I want to be a little crazy in my life. Now I have found a way: I put on my
Madscientist
costume and go to the lab. There, I've experimented around a bit. I found out how I can make
Dazmo

Snoodi

and
Flonk

Now i have 6 DNA pink


left and when you want to get one, write your name down here and the name of mini which you want to have.
Please only one per visitor
.
and please remember: i'm
crazy
- so i'm not sure what happens - crosses fingers i remember right how i can make them hehehehe
oh and i told my mom to set up a trade with scholarships for our clubpet: MSMmascot to help him to go to the university.... hehehehe
[b]c
r
a
z
y
[/b] greetings
hehehe - looks like all my dna are gone hehehe runs in lab - happy dances but wait - stands still: if you want more mini's hehehehe you can send me a dna hehehehe for more experiments hehehehe
hehehe it works, i remember right - didn't believe it hehehehe
dancing around lab hehehehe - tell my mom to send out the mini's...
DAZMO - sent to IRIS and SAMMIE

SNOODI - sent to SUSI, RHONDA and FIRE

FLONK - sent to LOLLY
i thank you who helped me to be a little crazy Madscientist - psst - love it - can do all i want hihihihihihihi - everyone is afraid i can put him/her into lab hehehehehehe
send me DNA - send me DNA - send me more DNA for more mini's
hehehehehe
- it's funny - i turned some of my sisters and brothers into mutant - hehehehehehe
i'm a madscientist - i'm the madscientist.......i'm the biggest madscientist.....
dancing around the lab and singing: i'm the biggest mad scientiiiiiiiiiist from the wooooooorld -
oooops what's that
- no no no no no mom,
MOM no no noooooo
i
don't
want to take off my madscientist costume
nononono stomps with the feet -
NO MOM!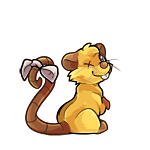 crying..... yes MOM - i promise - i will never wear this costume...
......
pssssst - mom is going out - did you see where she hide the costume..................
hehehehehehehehehehehehehe