My Pets and Gallery items are not for sale or trade. For those wanting to borrow pets for goals, all my pets are very expensive.



Firey_Draco the Frostfire Ercuw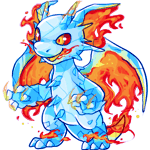 On Vacation

12 Years 1 Month Old

Level 166
Died 0
Imprisoned 1
Weight 6KG
Height 7 Metres



Happy


8 Years 10 Months Old


Beige Dracone


8 Years 7 Months Old


Liz


8 Years 10 Months Old


Purple Flaydor


8 Years 8 Months Old


Mini-Me


5 Years 11 Months Old


Shnuggle


4 Years 6 Months Old
For most items in my trades/shop, I'm willing to accept items I need (see blogs). I may also accept Computer Science and Environmental Studies scholarships. Please be fair when trading. Have a great day!