Zeeyna
the Nightmare Rofling
11 years & 9 months Old
Born
9th Mar 2008 12:57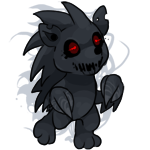 On Vacation
I'm an adult player. My pets and gallery items are not for sale or trade or lending. Do not ask! I frequent walk away from the computer to tend to real live issues. Please be patient if I don't respond quickly.

You joined Marapets on November 7, 2007, 4:11 am

GOALS:
Have all pets at Intermediate Level for Olympics
Have all my pets job levels at Level 20
Finish Photo Collection
Finish Plate Collection - done a few times. lol
Have Gorgun read all books, listen to all CDs, Watch all DVD's and eat All Gourmet Foods
Get Gorgun's stats as high as I can!


TRADING GUIDELINES - I am willing to accept mp or items I need for any item in trades as long as the trade is fair! I am also willing to accept trades for the items in my shop. If you're interested in my trades READ MY BLOGS for Items I need.
I frequently use 2 types of Scholarships for my pets - Computer Science and Environmental Studies. I am willing to accept these or combinations of these for items like photos, plates, and some of the cheaper items in my shops/trades. Feel free to offer, or message me. If offering scholarships please have them TOTALING a similar value to what you are offering on. For example, I will not accept 2 or 3 scholarships totaling less than 100k for an item not in shop search

Have a great day!